Not traditional photos but photos of part of the UK's rich traditions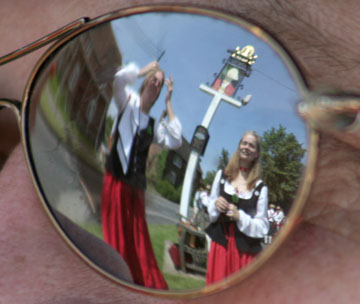 Having attended many of these events over the years both as a participant and observer I have gained a love for the strength of local communities that support these events.
From Hobby Horses in Cornwall to Village Fetes in Kent and Sword Dancers on a windswept Boxing Day to the Floral Dance on a spring morning
The photos on the site hopefully convey an impression of what goes on at these events. At present these are in the main recent photos since a change from film to digital. There is a reservoir of older images which will appear gradually as I can get them scanned in.
Some of the photos have a lot of information and some virtually none. If you have details about any of the events that you think could add to the usefulness of the image, not just now but in the future when these images may be part of an archive, then I would be delighted to receive it. You can contact me at pete@richtradition.co.uk
These images are all displayed at medium to low resolution for speed of download and storage space. If you need a high resolution image please contact me.
All images are copyright of Pete Thomas unless specifically stated otherwise.
Images of the John Gasson Jig Competition at Sidmouth